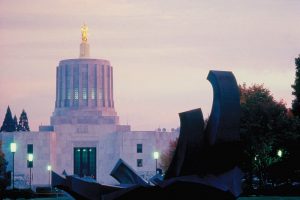 The 2021 Oregon Legislative Session begins this week and, although this session looks different from years past due to the restrictions in place from COVID-19, there are many important bills that could shape the future of juvenile justice in Oregon. YRJ is focusing on legislative proposals that align with our mission and values, starting with two of our own bills:  Juvenile Expunction Reform (SB 575) and Elimination of Juvenile Fees (SB 422). We've worked collaboratively with our system partners on these bills and on many other concepts that legislators will hear this session. Continue reading to understand how the passage of these bills will help youth and families overcome barriers to success that are created by the juvenile justice system.
SB 575– Juvenile Expunction Reform
When youth have contact with the juvenile justice system, records are created. Some of the information in the records is publicly available and easily accessible with an internet search.  Records can impact access to education and employment, and disproportionally impact youth of color. SB 575 will automatically expunge the records of young people who have never been found within juvenile court jurisdiction but have had at least one "contact" (a report of behavior that could have resulted in juvenile court involvement). Additionally, SB 575 will allow a young person seeking expungement to request appointed counsel before beginning the application process, rather than waiting until the District Attorney objects to the application. This way, young people seeking expunction will have the opportunity to get advice before filling out complex paperwork.
According to YRJ Supervising Attorney Lisa Kay Williams, "We don't want young adults to lose out on jobs and other opportunities because of childhood mistakes. Expunction gives people the ability to move forward with their life without the barriers created by a juvenile record."
SB 422 – End Juvenile Fees in Oregon
Youth and their families are charged fees when they are involved in the juvenile justice system. These administrative fees are distinct from punitive fines and victim restitution – they do not promote accountability, rehabilitation, or community safety.
Juvenile administrative fees are a regressive and racially discriminatory practice, one that hurts youth and families, undermines the goals of the juvenile system, and generates little net revenue. Because children of color are overrepresented in the system, these administrative fees disproportionately harm youth of color and their families. Six U.S. states have already abolished some or all juvenile fees, and legislation is in-process in another 12 states. Oregon should join this growing list by passing SB 422 and ending juvenile fees in Oregon.
Read more about the harm these fees cause in this article from Executive Director, Amy Miller: The Negative Effect of Fines and Fees in Juvenile Justice.
We'd like to thank Senator Dembrow and Senator Lieber for sponsoring SB 575, Representative Sollman for sponsoring SB 422, and Representative Manning for sponsoring SB 575 and SB 422.