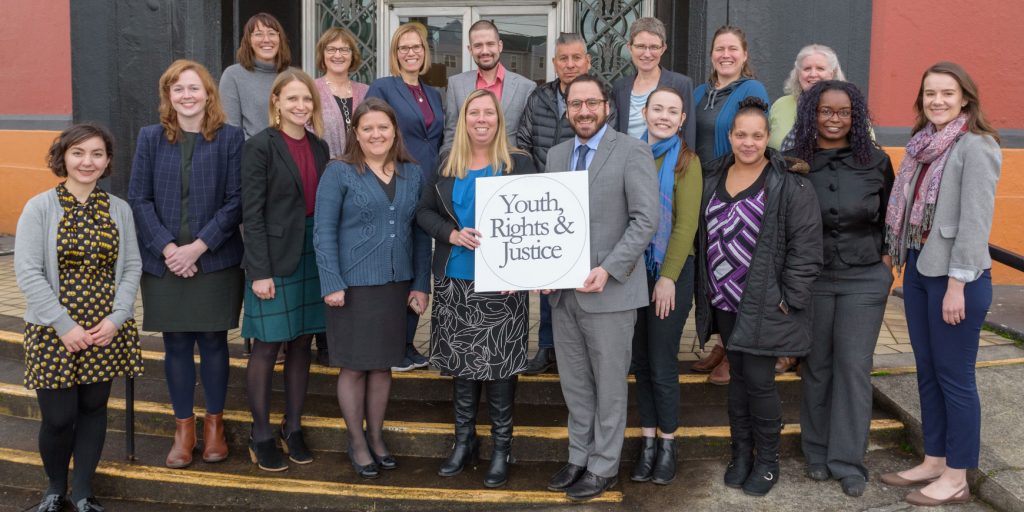 Who We Are
Established in 1975, Youth, Rights & Justice is Oregon's leading nonprofit law firm dedicated exclusively to children and families. We bring a trauma-informed lens to all of our work; seeking to promote resilience, dignity and respect.
We provide excellent client-centered representation for parents, children, and youth.
Our legal teams zealously represent our clients, fighting to make sure their voices are heard.
We narrow the achievement gap for children in foster care.
Our innovative SchoolWorks program ensures that foster children aren't left behind when it comes to education. We provide school advocacy to ensure that our clients can enroll, attend, graduate, and succeed in school.
We reform and transform the child welfare and juvenile justice systems.
By leveraging the authority of the courts and the power of the legislature, we enact system-wide reforms that benefit young people and families across the state.
---
25,000+ children, youth, and parents represented since 1975
3,200+ cases helping children and young people through SchoolWorks since 2002
500,000+ Oregon children and families helped by the laws, policies, and system reforms we've championed
---
Our Staff
Executive Director:
Heather Busby
Supervising Attorneys:
Lisa Kay Williams
Jennifer McGowan
Christa Obold Eshleman
Operations Director:
Gabrielle Goldsby
Director of Development:
Laurel Keppy
Director of Administration:
Ally Hood
Staff Attorneys:
Maggie Carlson
Stephanie Engelsman
Ginger Fitch
Lauren Freeman
Erica Hayne Friedman
Seth Lichenstein-Hill
Tyler Neish
Kris Paustenbach
Kelli Russell
Chris Shank
Elizabeth J. Sher
>Brian Scherman
Jennifer Stoller
Julie Sutton
Kathryn Underhill
Case Managers:
Ivan Denizac
Abby Gluckman
Family Engagement Specialist:
Olivia Vo
Social Worker (YES Program):
Josue Gomez
Data Integrity Manager:
Natalie O'Neil
Investigator:
Sean Quinn
Paralegals:
April Brix
Sue Pasi
Legal Assistant Manager:
Fernanda Manzo
Legal Assistants:
DeWayne Charley
Leticea Cruz
Michelle Zavala
Vicky Morales
Records Clerk:
Chad Lucero
Discovery Clerk and Policy Coordinator:
Kendall Quinlan
Development and Communications Coordinator:
Katy Maloney
Law Clerk:
Edwina Gantzer Barajas
---
Our Board
President: David Rabbino, Jordan Ramis PC
Vice President: Nakia Bradley-Lawson, Gevurtz Menashe
Treasurer: Jilian Saurage Felton, Community Partners for Affordable Housing
Secretary: Tiffany Uranga
Liz Fouts, The Standard
Alan Galloway, Davis Wright Tremaine LLP
Rohini Ghosh, PacifiCorp
Sue Ann Higgens, Portland Public Schools (retired)
Lissa Kaufman, Lissa Kaufman Law
Bryan Leinwand, Performance Software Corporation
Ann Phillips, Zappos.com (retired)
Megan Reuther, Tonkon Torp LLP
Jacqueline Roebuck Sakho, North Carolina Agricultural and Technical State University
Liz Schlosser, The Standard
Janet Steverson, Lewis & Clark
Penny Sweeting, Geffen Mesher & Co., PC
Dana Walton-Macaulay, Independent Police Review for the City of Portland
Joel Willard, Intel
---
Annual Reports
Financial Statements