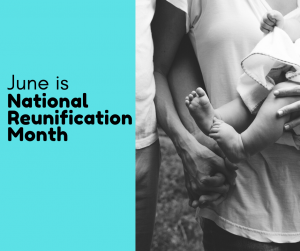 Dear Friends,
June is National Reunification Month. This month we celebrate families and the importance of family reunification for children and youth involved in the child welfare system.
Children belong with their families. We join with organizations across the county in celebrating families who have reunified and the people who have supported them in their reunification journey.
The trauma that family separation causes to children and families is often permanent, contributing to irreparable harm in a child's health and development. Outcomes for children who are separated from their families are worse than those who remain at home, even when the home is far from perfect.
Because of the overwhelming evidence of the trauma that families face when separated, the goal of the child welfare system is to keep families together and, when that is not possible, to reunify families as quickly as possible.
Family reunification has become even more urgent in light of the pandemic.  Children separated from family and placed in foster care, once able to visit their parents regularly, are now limited to video or phone contact. Parents face reduced access to essential services such as housing and health care.
As we celebrate reunification, we are also mindful of the systemic issues within child welfare that disproportionately target people of color and their families. Over the course of their childhood, 53% of Black children will be investigated by child protective services.  In Oregon, foster care is used much more often and for much longer periods of time for African American and American Indian/Alaskan Native children than for white children.
I encourage you to read the stories, written in their own words, of parents and youth involved in the child welfare system. These powerful stories highlight why we work to defend the rights of children, youth and families.
Take care,
Amy Miller
Executive Director