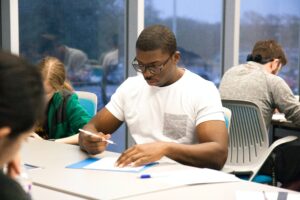 This year Youth, Rights & Justice received a three-year federal grant for over $700,000 to create the Youth Educational Supports (YES) program. This innovative  program provides educational advocacy and support for youth who are in Oregon Youth Authority custody and transitioning back to their community from a youth correctional facility or program. The YES team began to take on cases in the last several months, and is currently serving 11 clients, ranging in age from 16-25.
This project expands YRJ's existing SchoolWorks program by creating a team of experts to improve educational reentry services, particularly for youth from marginalized communities struggling with high recidivism rates. These young people often face additional barriers to accessing educational programs and lack critical support to ensure  these opportunities are available to them. YES pairs clients with a YRJ social worker and an education attorney who work directly with them to identify their educational goals and develop an educational transition plan to achieve them.  
The program serves a diverse population of youth returning to the Portland Metro area. SchoolWorks YES clients closely mirror the race and ethnicity of those committed to Oregon Youth Authority, wherein BIPOC youth, in particular, are significantly overrepresented.
YES clients receive critical educational advocacy and services upon release from confinement. Services can range from helping to create an individual education plan to aid in the development of independent living skills, to supporting placement into a new community and school. Many of the youth have graduated high school or will graduate soon. The YES team helps them to apply for and access programs like trade schools, apprenticeships and college. Youth-driven advocacy, and the confidential, trusting relationships between youth and their lawyers are at the core of the program's design.