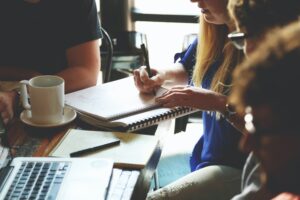 Youth, Rights & Justice is thrilled to announce the unveiling of our new five year strategic plan. Over the past year, a team of board members and staff, with feedback from our community partners, former clients, and other stakeholders, have embarked on an equity-focused strategic planning process. Out of this rigorous process and thoughtful conversation, a plan has emerged which centers the needs and voices of our clients, while also helping to propel YRJ to the next step in our advocacy. We have reevaluated our mission, vision, and values statements in order to more accurately reflect our goals and objectives. As a result, YRJ has identified three main imperatives which will strengthen and enhance our advocacy efforts and internal culture.
Though it will be an ongoing process, we are excited to begin the work of implementing our plan. We are hopeful that through this work YRJ will be able to effect greater change for our clients and all families in Oregon. 
Thank you to our staff, board members, and everyone who participated in the creation of this plan. 
See a breakdown of our strategic plan here. 
Vision
We envision a just and equitable society that creates opportunities for children, parents, and families to imagine and achieve their aspirations.
Mission
Youth, Rights & Justice advances the rights of children, parents, and families through advocacy in the courts, schools, legislature, and community.
Values
Our work is grounded in the belief that our clients are at the center of all that we do. Our values guide our interactions, decisions, goals, and strategy. They serve as the touchstone for open communication in the office, with clients, and in the community.
Collaboration: We believe that working together internally and externally results in better outcomes. We seek opportunities to build effective coalitions with our partners. We value each individual's contribution to ensure our high standards of professionalism. We listen, learn, teach each other, and push ourselves to improve.

Equity: We actively and urgently take steps to counter the racism and bias that permeates our juvenile justice, child welfare, and education systems. We seek opportunities to ensure those most affected have a significant role in decision-making.

Openness: We encourage our employees to speak up and are willing to listen to all ideas. We embrace diverse opinions, even if they challenge our beliefs and push us to grow.

Compassion: We acknowledge the trauma inherent in our work, embrace empathy, and treat those around us with dignity, respect, and kindness.

Integrity: We stand by our commitments and we are invested in building meaningful relationships. We communicate honestly and respectfully with our clients and each other. We are committed to investing in the success and well-being of our employees.

Agility: We adapt, affect change, and innovate to bring equity, fairness, and client voices to the systems in which we work.
Position
YRJ provides holistic legal services and policy advocacy for children, parents, and families in Multnomah County and statewide. We:
Serve as public defenders in juvenile cases in both trial and appellate courts.

Advocate for students to ensure they have equitable access to education.

Provide leadership to reform the juvenile justice, dependency, and education systems statewide through programs, policy advocacy, consultation, training, and impact litigation.